Let me add a disclaimer to this before we get too far ahead. I realize that I don't speak for all women. I am only one woman on a planet filled with them.
My penchant for beards and V-neck t-shirts on men, for example, might seem completely unappealing to many (if not most) of my fellow sisters across the globe. But one woman is not an island.
The lion's share of the below items come from conversations over the years with other ladies in my life—whether in high school hallways or at college parties, over meals, watching TV, or even when it came to planning my own wedding—so what you see here isn't really the ranting and raving of just one broad, but my whole crew of females, past and present.
Here are 38 Lessons: The Ultimate Guide to Men's Fashion From a Female Perspective. Enjoy:
1

Denim
Most of us wear jeans more than any other piece of clothing in our closets. So this wardrobe workhorse oughta be good.
Ditch the dad jeans and find yourself some nice-fitting denim. A dark wash is the most versatile—it can be easily dressed up or down and that deep indigo is awfully slimming.
Choose a pair that's slim (not so tight they look like jeggings), and straight-legged. A cuff can look cool at the bottom but can also make you look shorter, so buyer beware.
If you're interested in a recommendation, we're big fans of Mott & Bow. They have a wide range of fabrics and offer each one in skinny, slim, and straight fit. And our editor won't stop telling me how comfortable they are.
But the best thing? You can choose a free "try-on size" pair of jeans which will be sent with your purchase. Then you simply keep the pair that fits you best, and ship back the other free of charge.
Check out their website for more info.
2

The Tuxedo
Ahh, the tuxedo. Wearing a tux is like being a granted a superpower.
It instantly makes you more than "Average Man"—you look wealthy, deadly, mysterious, powerful. A tuxedo is nothing short of transformative. Try to somehow find a reason to wear one at least every once in a while to experience its effect.
Just like accents, many of us females are suckers for a man in a tux.
3

Suits
The tailored suit made its way onto the list of 50 Things Every Man Should Own Before His 30th Birthday with good reason, and it bears repeating here.
Just like many women are weak-kneed in the presence of a tuxedoed man, a fella in a crisp suit deserves a wolf whistle. A nicely tailored suit projects confidence—it makes you look together, capable, and successful.
In a suit you look clean and grown up, like a man who is familiar with dry cleaning. All of that is attractive.
If you're on a budget, this is a really well reviewed option that will get you by until you upgrade to 100% cotton:
ON SALE NOW
P&L Men's Premium Slim Fit 2-Piece Suit Blazer Jacket & Flat Pants Set
Last update on 2019-01-21 / Affiliate links / Images from Amazon Product Advertising API
4

The Leather Jacket
While the whole James Dean/Marlon Brando/leather jacket is a cliché at this point, it's no accident that some combination of those three things has been cited again and again in anything having to do with men's fashion.
Let Dean and Brando show you how reckless and sexy this can look if you need further convincing to bite the bullet on this one.
Our picks:
MILWAUKEE LEATHER Men's Classic Side Lace Police Style Motorcycle Jacket (Black, Large)
Last update on 2019-01-21 / Affiliate links / Images from Amazon Product Advertising API
ON SALE NOW
The Leather Factory Men's Sword Black Genuine Lambskin Leather Biker Jacket L Black
Last update on 2019-01-21 / Affiliate links / Images from Amazon Product Advertising API
5

Shoes: Dress
Though, admittedly, my husband breaks these fashion commandments from time to time (his "wallet" is a binder clip and many of his shirts have worn out into holes at the elbow), he is on top of his game when it comes to dress shoes.
And what I love most about his dress shoes are that they stay true to his style—you don't have to speed right from college flip-flops to corporate lawyer/old man territory. He opts for worn-in dress boots, rather than oxfords—they look great and suit him well (and look just as good with jeans, if not better, than with dress pants).
Tip 1: Chestnut-colored leather looks awesome with a blue or navy suit (this was my husband's wedding look—in my opinion he looked better than I did that day).
Tip 2: Don't go too pointy—I think the pointy dress shoe trend is unflattering and over-the-top.
Oh, and if you wear dress shoes for work and you're on your feet a lot, do yourself a favor and pick up some insoles. We review our favorite ones for reducing heel pain (plantar fasciitis) here.
6

Shoes: Sneakers
Sneakerheads, this one's for you.
I think a cool, well-kept pair of sneakers can be super stylish and a nice leather pair can even sub for dress shoes on many occasions (dinners, work, dates, etc.).
For street style, the 'ugly sneaker' has been majorly on trend this year. 'Dad style' warriors, your time is now.
For more, be sure to check out our list of the 10 Types Of Shoes Every Man Should Own.
7

Flannel
In my mind, a flannel shirt is masculinity in fabric form.
Maybe it's growing up with all those Brawny paper towel commercials. Or maybe it's because I hit my pre-teen years in the 1990s at the height of grunge. Either way, a man in a flannel shirt always looks good to me.
They're also durable and warm, so flannel is a practical thing to purchase, my '90s adolescent fantasies aside.
And it's hard to go past the classic red:
ON SALE NOW
Wrangler Authentics Men's Long Sleeve Plaid Fleece Shirt, Red Buffalo, Large
Last update on 2019-01-21 / Affiliate links / Images from Amazon Product Advertising API
8

"Humor" T-Shirts
Shirts with derogatory messages towards women are not okay to purchase (except if they say "FBI: Female Bikini Inspector." That one's just funny).
9

Underwear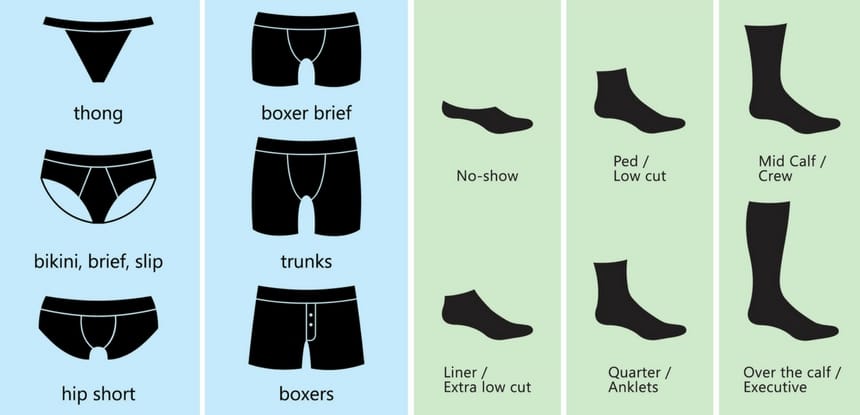 Buying underwear is a drag.
Even though receiving it from our grandparents at Christmas was the biggest letdown of the year, it was kind of nice having someone just get that done. Now that we're adults, we need to go buy our own. So go do that.
Clean, grownup underwear on a man is always a nice surprise to see, whether on someone you're seeing scantily clad for the first time or on a significant other shuffling to the kitchen to make coffee on a weekday morning.
Personally, boxers or boxer briefs top my list—I think briefs give off too much of a little boy vibe (particularly if adorned with any type of superhero design).
We've done a couple of underwear reviews you might like to check out:
Tani USA Underwear Review: My Thoughts After Weeks of Wear
Separatec Men's Pouch Underwear Review
10

Plain Tees
There is nothing better than a man in a white t-shirt.
It's such a clean, classic look. Throw on an old pair of jeans and some cool kicks (see #6 on this list) and you are perfection.
My husband looks his best in a plain, white V-neck, some dark, button-fly jeans, and his aforementioned worn-in boots. It's probably safe to say most of you readers look your best in some variation of that style, too.
The Alstyle's are a good grab for a crew neck: